The Instagram hoax that it will use your photos against you has been debunked by Adam Mosseri, head of Instagram.
The viral image has been spread widely on Instagram profiles, including a ton of celebrity verified profiles to millions of followers. It states:
"Everything you've ever posted becomes public from today," the post states. "Even messages that have been deleted."
"With this statement, I give notice to Instagram it is strictly forbidden to disclose, copy, distribute, or take any other action against me based on this profile and/or its contents," the message read.
"Instagram DOES NOT HAVE MY PERMISSION TO SHARE PHOTOS OR MESSAGES," it ends.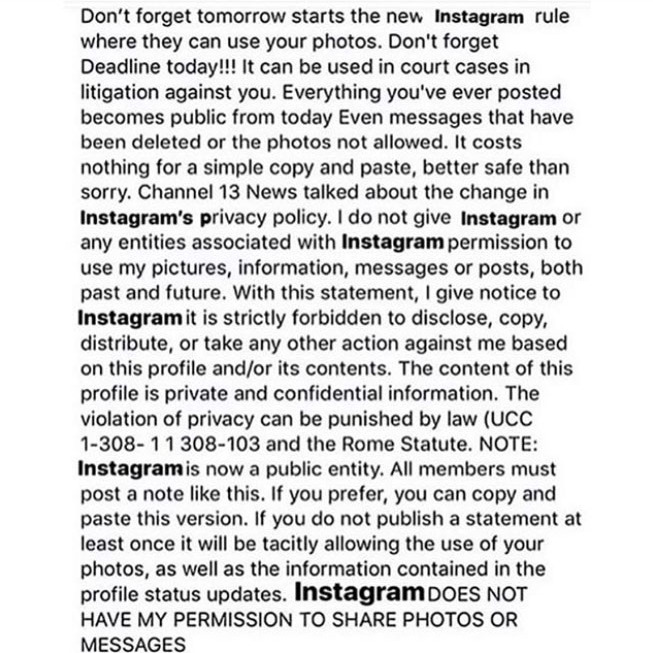 Adam Mosseri wrote in a post on his verified Instagram. "Heads up!", his story stated "If you're seeing a meme claiming that Instagram is changing its rules tomorrow, it's not true."
READ: Marilyn Monroe was photographed nude on the autopsy table
A number of celebrities have fallen for the hoax, including Rob Lowe, Judd Apatow, Usher, Julianne Moore and Debra Messing.
Some were in awe that Secretary Rick Perry, the man who is in charge of America's nuclear arsenal, and is head of the Department of Energy fell victim to the hoax.
The message was posted to his personal account, @governorperry, as well as his Twitter account. He also has a separate account, @secretaryperry, to showcase his official government work with the Energy Department.
Later on, Perry deleted the Instagram hoax meme from his page. He subsequently replaced it with another post, mocking the original.
On the other side, Comedian Trevor Noah made fun of the post and those who have believed it, posting a photo with caption: "Instagram you are a bad boy, don't use my message for your badness ok! Now I stop you because this was also on channel 13 news!"
John Mayer did, too, giving Instagram permission to sell all his digital content, including his "world famous meatloaf recipes."