In a tweet early this morning, Lucas7yoshi a prolific miner revealed that they may be a code line relating to a new set of Fortnite Season 9 skins. The cosmetics set is dubbed the "AssassinSuit," and its display name is said to be "John Wick."
Another data miner, FortTory, showed off a list of challenges relating to a Limited Time Mode called Wick's Bounty. The challenges ask players to play (and win) matches of the mode, dealing damage with certain weapons and collecting Gold coins.
Details are scarce, but a decent guess would suggest that the mode will require players to earn coins by killing enemies, which likely means getting up close and personal in order to make sure you claim your reward.
With John Wick 3 heading to cinemas later this week, this seems as good a time as any for Keanu Reaves crossover. And let's not forget, of course, that the Fortnite Season 3 Battle Pass featured a skin that looked an awful lot like the iconic action character.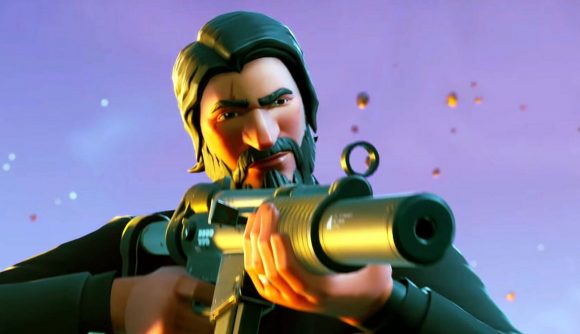 While the Fortnite mode is just a rumor, for now, John Wick Hex, a turn-based tactical game based on the character's recognizable 'gun-fu' was announced yesterday. There's no release date just yet, but it looks like we'll find out more at E3 later this summer.
Elsewhere, Fortnite Season 9 restored Tilted Towers, added in a host of new skins, and introduced a new transportation mode in the form of Slipstreams – massive wind tunnels that criss-cross the entire island.
RELATED: The upcoming Diablo mobile game is right around the corner …