While nobody will likely ever be paid as much as Johnny Carson, David Letterman, and Jay Leno were in their heydays, Jimmy Fallon could get there if he becomes iconic enough. Ratings among the big three late-night shows (Jimmy Kimmel Live, Late Show, and The Tonight Show) are usually close enough where the hosts are all paid well just for being there.
So, what is Jimmy Fallon making per year now hosting Tonight? Also, what could he potentially make later if he decides to hang around as long as Carson?
It may seem like a century ago now, but Jimmy Fallon was once a regular on Saturday Night Live and also made some (moderately successful) movies during the '90s and 2000s. During this time, he'd already become a modest millionaire until pushing his fortunes higher taking over for Conan O' Brien on NBC's Late Night franchise in 2009.
According to reports, Jimmy was making $5 million a year from just doing this. No doubt his yearly salary shot up quickly when it was realized how big of a star he was going to become. Fallon truly found his comedic element doing Late Night with Jimmy Fallon.
Fallon truly found his comedic element doing Late Night with Jimmy Fallon.
Had Jay Leno become adamant about wanting to stay with The Tonight Show into his 70s, Fallon would probably still be hosting Late Night now and perhaps be making as much as he's currently worth with Tonight.
Taking over the latter in 2014 was the beginning of an amazing contract that now doesn't expire for two more years.
Only one year had to pass of Fallon hosting The Tonight Show for NBC to realize they had a modern-day Johnny Carson on their hands. His contract was quickly upgraded through 2021 with a reported $11-$12 million salary per year.
Keep in mind this is just what Fallon makes hosting the show. Despite not making movies anymore (and he likely never will again), other money is coming in from doing endorsements, plus Tonight Show related media properties. Part of this also includes the show's monetized YouTube channel.
There was only one obstacle in the way of Fallon having an easy golden path ahead. Once Donald Trump became President, Fallon's competitor on CBS (Stephen Colbert) went into a hyper-creative mode. Also, an interview with Trump by Fallon during the Presidential campaign didn't exactly go over well with fans.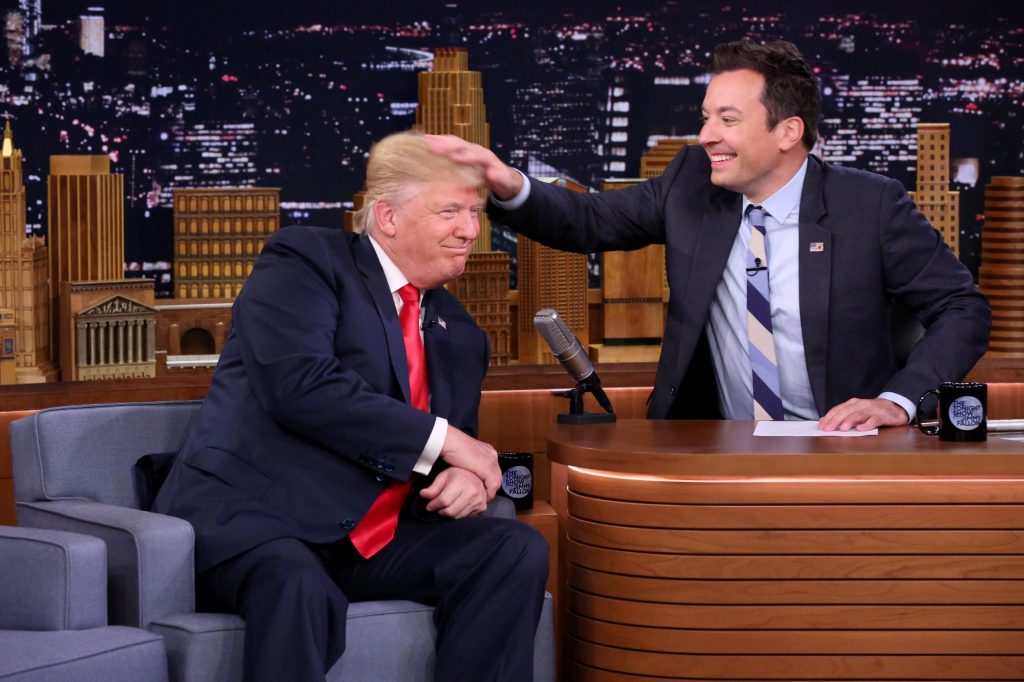 Most people who aren't fans of President Trump will probably admit they tune in with glee to watch The Late Show with Stephen Colbert most nights since the 2016 election. Colbert moved into the No. 1 position not long ago, leaving Fallon at a bit of a loss, if still being a close second.
For most people, they likely flip to the show they want to see based on the guests, or if one or the other hosts are on a week's vacation with reruns. One thing for sure is Fallon's writing is usually as sharp as Colbert's now, including more political sketches.
Most sources say Fallon is now making $16 million per year (plus a $25 million net worth), so the Trump interview fallout has likely blown over. Fallon also comes in at #1 some weeks, showing he and Colbert are basically tied for America's favorite late-night hosts, with Jimmy Kimmel making up the rear.
Now that Fallon has more or less regained his momentum, we all have to wonder how long he'll stay with The Tonight Show. Will he continue into the 2020s and become one of the highest-paid late-night hosts?
Based on today's dollars, he could exceed Carson, Letterman, and Leno's take if he sticks with the show another 20 years. Colbert assuredly won't stay on Late Show nearly as long either (due to being older), making Fallon possibly like a second Carson by the end of the coming decade.
We'll see how late-night politics work since hosting has become more coveted than becoming President of the United States.
TV: Game of Thrones is ending. HBO hopes 'Watchmen' can replace it